Silent Chaos' new album MACRO is out on WDGAF label for the Spring Equinox 2Ω2Ω – the end of the Old Era, the start of the New Aeon.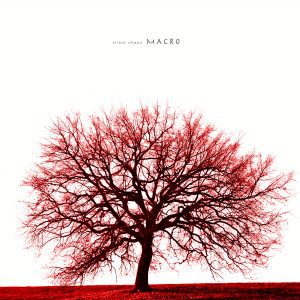 "MACRO" is the story of a journey, the one that takes the spirit from the Microcosm (as in the album "micro") – where is staged the destruction of the worldly self that allows access to the Mystery – to the Macrocosm, in which, recognized the self and the world limits, the Intellect is pushed toward unknown horizons, with the terrible and sublime purpose of making the deconstruction of the Whole, to finally reconstitute itself as a primordial Adam.
The Silent Chaos music in "MACRO" is the second part of a double project (micro-MACRO) where is narrated the evocation of archetypes buried in the collective unconscious, shown in a new intellectually (the manner of Plotinus) emotional light. The use of electronic tools, such as modular synthesizer, sequencer and electronic pad drums that controls loops, samples and field recordings, offers to Silent Chaos a wide sound palette, from which Silent Chaos draw to define the personal stylistic framework. Each composition determines a special universe in which crop up echoes of concrete music, choirs, tribal sounds, noise and ambient, in sound experiments that envelop and surprise even those not accustomed to listening to these genres.
Silent Chaos are:
Marta Noone: modular synthesizer, voice, guitar & sound fx programming
Ugo Vantini: electronic & acoustic drums and percussions, loops, field recordings manipulation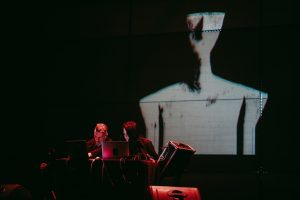 MACRO tracklist
1 – Nocturne on Ganimede
The vision from other worlds of impossible perspectives. The expansion of dimensions intersecting in emotional labyrinths. The journey continues into unknown universes.
2 – Let the Grace In
The inner battles are the most difficult to fight, and at the end, only if you know your enemy you are going to win.
3 – The Deconstruction of Collective Unconscious
The intelligent swarm has to be conducted and the conductor doesn't always know how to keep the baton in his hand; with the result that the expression of that so valuable intellect is likely to get lost in mass confusion.
4 – Fall of the Machine
Absurd, all-encompassing and devoid of empathy; for the machine to be no further epilogue desira- ble that the fall in a deep inhuman abyss.
5 – Winterland
Crystallized wishes in an untenable icy stasis. The limbo of thought, where echoes of distant bells, calling to awakening thaw, resonate.
6 – Adonai's Calling – The Hail of God
Flashes of pure light in the blanket of indifference, all wrapping and nothing leaking. Waves of a new consciousness on old beaches of arid intentions. The end and the new beginning of the journey.
Silent Chaos' MACRO is available here: