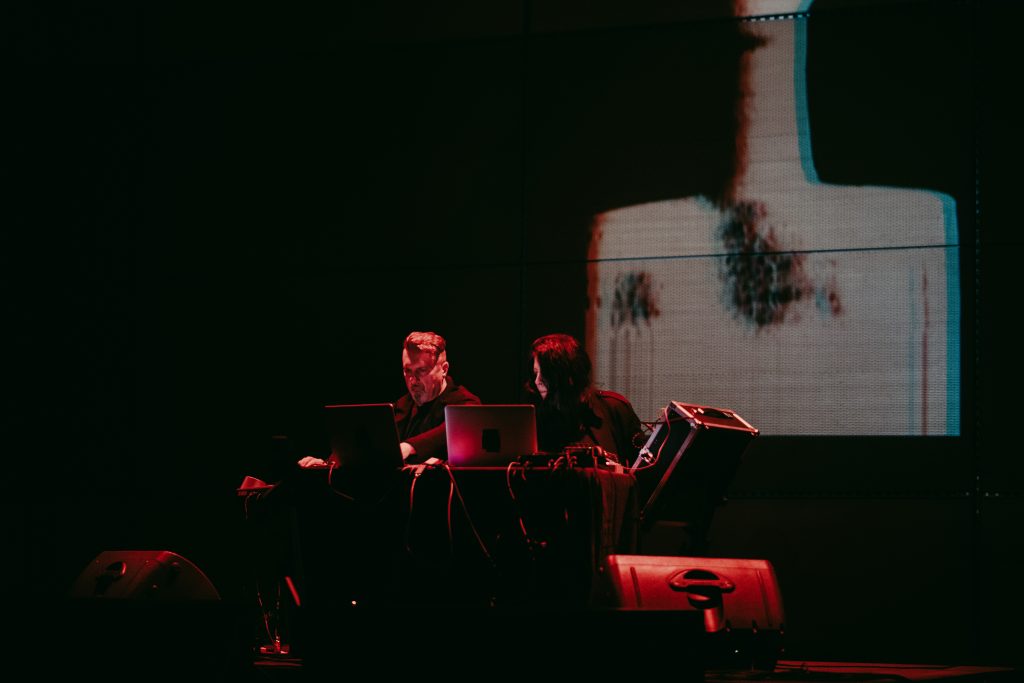 Silent Chaos (Marta NoOne: modular synth, vocals, FX, laptop and video programming – Ugo Vantini: electronic and acoustic drums and percussions, loops, samplers, field recordings manipulation, graphics) is an experimental audiovisual project founded in Rome, Italy, in 2016. They moved to Scotland in 2018, searching for inspiration and new challenges.
Their music feeds on non-linear time, on conceptual and performing circularity: ancient and futuristic sounds advance in a spiral-shaped way. Their sound is structured but not predictable, in an impromptu composition based on channelling through improvisation. Past, present and future times merge in ancient sonorities and electronic twistings. They released their debut album "micro" through Eclectic Productions in 2017 and they were featured in four international compilations; the second album "Osclltr 012" was released in 2018 through Berlin's label Osclltr Records. They are now finalizing the mixing of their third studio album "Macro", which will be released on the Spring Equinox 2020 for We Don't Give A Fuck.
Silent Chaos did sonorizations for various art exhibitions, they acted in theatrical and radio performances, and performed, with their audiovisual show, at the Italian contemporary art museum MAAM and in various other venues between Italy and UK. Currently based in the north-east of Scotland, Silent Chaos presented their composition "Schizophrenia in Schizophonia" in a live performance at the SERG Sonic Realities International Postgraduate Research Conference 2018 in Aberdeen, and performed at the King's College Chapel for The University of Aberdeen Music Department; they performed with the A/V site-specific work "Permutations", at the Kirk of St Nicholas in Aberdeen, in Autumn 2018 for sonADA inTransit III; they performed at the Glasgow's CCA for Cryptic Nights, for the 25th anniversary of Cryptic Glasgow and the 10th anniversary of Cryptic Nights, on March 2019 with the A/V project "Origins"; they've also performed "Origins" at Anatomy Rooms in Aberdeen for Listen Again Festival 2019, the fringe of Look Again Festival. "Origins" radio edit has been broadcast for Radiophrenia 2019. They performed for WAGON in the Japanese Garden of Duthie Park "The secret music of plants", an electroacoustic performance which involves a plant connected to the modular synthesizer with biofeedback sensors, letting the plant generate music through the synthesizer. In October 2019 they performed "Origins" at Sound Festival in Aberdeen.
In Summer 2019 they were awarded of the Alt-W Fund by New Media Scotland and Aberdeen Performing Arts, to produce a generative art work for the Aberdeen's Music Hall giant LED screen. With "Human AutomatArt" they are going to fill the Music Hall with a bespoke network of different types of sensors, whose gathered data will drive the digital painting visualized live on the screen.
Click here to go to the website.
Silent Chaos on Facebook
Silent Chaos on Bandcamp
Silent Chaos on Youtube
Silent Chaos on Spotify